Tales of two purges
How two molders found change is good, and change is fast
Two molders have found a purge process that brings their screw and barrel to a clean only seen after a tear down. And they do it in minutes, not the hours previously spent either running regrind, or tearing a machine down. Both molders have increased their productivity and reduced maintenance time, each of which contributes to higher output per machine. And that is a straight shot to the bottom line. The new process used NPT NuPurge Technology from Slide Products.
Molder 1: Food packaging
Cosmetic appearance is critical for food packaging and this molder was spending hours running regrind to make resin and color changes, hours lost that could be production time. "We run a lot of regrind to try to clear the barrel and we are tearing down two machines per week for a thorough cleaning," they explain. "This new purge process took only minutes. We ran a test and we went ahead and did a tear down after the purge. Using this new compound we could see the barrel was clean and ready for a resin change right away."
The Problem
Running a lot of HDPE, this large food packaging molder was having lots of specking issues. "We had black specks showing up in the final output." The current procedure was to run lots of regrind to purge, and increase the number of tear downs, up to two different machines per week, to maximize the quality of the output. In fact, machine teardowns became the primary responsibility of one of their technicians.
The frequent teardowns had additional costs as well manifested in an increase cost of time and materials. "We needed to replace parts more often, and we were losing production time."
By using the NPT chemical purge and HDPE as the carrier material, this large packaging molder sees a 30% increase in production as a result of faster, more effective purges, reducing specking and improved quality, and a dramatic reduction in machine maintenance.
Molder 2: Sheet extruder with FR additives
The second molder, a sheet extruder running significant amounts of FR additives, found the same results. He explains, "We run regrind for several hours to clear the barrel, and sometimes the bromine from the fire retardants fouls things up. This new process has us at a normal changeover of just one-half hour with no odor during the purge."
The Problem
A large, industry-leading custom packaging firm, with dozens of packaging awards for their innovation, was doing a teardown once per month for each of its machines. Significant amounts of residue buildup were found in the extruder barrel and weren't being cleared by running regrind for several hours.
"Using NPT we are now at a normal resin changeover of about 1/2 hour," he explains. "We anticipate far fewer teardowns and hope to do it only once per quarter."
How it works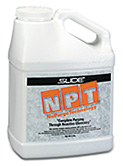 Slide's NPT NuPurge Technology is a chemical purge that works with the carrier resin to quickly and effectively clean the screw and barrel in just minutes. It has a working temperature range of 160°F - 600°F, reducing the number of purging products required by many molders to just one. Which reduces inventory and simplifies the purging process.
NPT is FDA compliant and ready to use. No mixing is required. It works with most resins, but is not recommended for use with acetal or Delrin®. It removes all traces of barrel residue in any plastics processing application in less time and for less cost.
N.P.T. consists of concentrated purge pellets that react chemically to heat, quickly and effectively cleaning machinery without extra soak time, excess downtime or lost productivity. The resulting purge is so effective that even resin deposits accumulated over long periods are often removed the first time N.P.T is used.
Easy to use, NPT requires no mixing or preparation time, shortening the clean-up cycle. Just pour the recommended amount directly into the throat of the machine. N.P.T. is so concentrated that less compound — up to one-half the amount of cracked acrylic — is needed for a complete purge. N.P.T. is non-hazardous, FDA compliant and free of harsh odors.
For more information on NPT NuPurge Technology and the details on the purging processes for the two molders, contact Slide Products at 1-800-323-6433, info@slideproducts.com, or visit http://www.SlideProducts.com.