Use our mold release wizard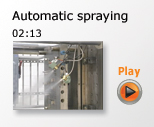 Home/Accessories/Charge-It! refillable, rechargeable aerosol accessory No. 43600
Charge-It! refillable, rechargeable aerosol accessory No. 43600
Extremely dependable, with an almost indestructible stainless steel and polyacetal construction, you can fill Charge-It! with liquid bulk product and charge with compressed air (up to 150 PSI).

The aerosol spray valves and tips feel and spray similar to a regular aerosol and are simple to replace at very little cost. Various spray tips and valves are also available.
Product Number(s)
43600 (aerosol)
Ordering instructions
So that we can expedite your order please indicate your current Slide Products' distributor. If you do not have a Slide distributor we will route your order to the nearest local Slide distributor for prompt processing. The distributor's name and contact information will be included in the email you will receive confirming your order.
Shipping information
No special shipping charges required for ground aerosol shipments. Air shipments may require extra charges and paperwork as determined by carrier. UPS may impose a hazmat fee per cylinder or bulk container for ground shipments. Air shipments of cylinders are not allowed by UPS.
Prices shown are for U.S. customers only. International customers, contact your local sales representative or Slide Products for pricing. Slide may share information with an authorized Slide distributor who, in the future, may offer local support.
| Product No. | Description | Unit Price | | | | Quantity |
| --- | --- | --- | --- | --- | --- | --- |
| 43600 | Charge-It! Refillable, Rechargeable Aerosol Accessory | $73.50 | | | | |
Slide Products, Inc. • PO Box 156 • 430 Wheeling Road • Wheeling, IL 60090
© 2018 Slide Products, Inc. All rights reserved.