Innovations arrive as we all learn more about protecting our environment. Now a new mold polish has been developed to meet the latest new regulations meant to minimize the impact on our environment.
Slide's new Mold Polish gives your fine tool steel an incredible high sheen while reducing emissions into the atmosphere.
Slide's new Mold Polish works as well as previous polishes, with micron-sized particles and a special formulation that won't scratch and brings molds to a lustrous sheen. Mold Polish removes plate-out, stains and oxidation, bringing your mold surface back to life, even reducing the need for mold release. It will not remove any metal.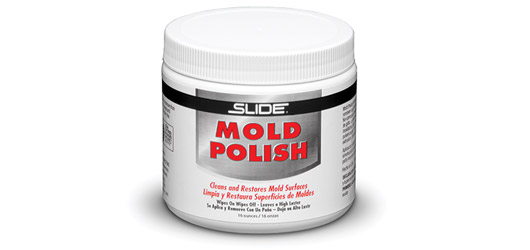 Better for the environment
New Mold Polish has no petroleum distillates, so it is low VOC, making it a safer alternative for you and the environment.
Mold Polish is a USDA certified bio-based product. It is made with renewable components, such as being plant based, which is easily grown and renewed rather than using components that deplete the earths components that cannot be replaced once used up.
How to use Mold Polish
Mold Polish works quickly, without scratching, on unfinished metal. Use a mold cleaner first to remove oils and contaminants from the mold surface. Apply, rub and buff on tool steel, stainless, aluminum, brass, bronze, zinc and other metals. Do not use Mold Polish on coated or painted surfaces.
Slide offers free samples of Mold Polish so you can see just how effective it is on your molds. If you want answers, please Ask An Expert at Slide Products; call 1-800-323-6433; info@slideproducts.com.