Does Your Anti-Seize Compound Contain Enough Solids?
Long-term performance of metal molds relies on a variety of mold building and maintenance practices. With moving parts and metal-to-metal contact, preventing seizing, galling, cold welding and heat freezing is critical.
When a lubricant is not enough
Though oils and greases are sufficient for some applications, when temperatures exceed 400°F - 500°F (244°C - 260°C), they quickly loose their efficacy. Anti-seize compounds were developed to lubricate at much higher temperatures.
Mold solids, better performance
Anti-seize compounds contain oils and greases to work at lower temperatures, plus carry other metallics and solids to continue protecting at much higher temperatures.
The degree of protection and temperature limits are determined by the percentage and type of solids in the compound.
After the oils and greases dissipate, the solid content remains, plating metal surfaces to resist friction, rust corrosion and other detrimental conditions. It is the amount of these solids that can help your metal-to-metal contacts last longer under high temperatures and increased loads.
In addition, copper and aluminum anti-seize compounds offer much higher load bearing properties than greases alone.
The solids in anti-seize compounds ensure ease of assembly; protection against seizing from extreme heat, pressures and corrosion; and facilitates disassembly.
Find a higher percentage of solids in new Slide anti‑seize compounds
Slide Products has introduced two new anti-seize products specifically for the mold making and plastics processing industry. New Copper Anti-Seize Compound and Aluminum Anti-Seize Compound have a higher percentage of solids than most. Their formulations are ideal for the rigors of plastics processing where load and heat can exceed the abilities of standard oils and greases.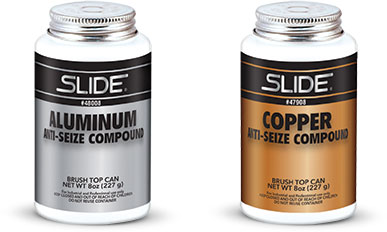 Aluminum Anti-Seize Compound is perfect for helping prevent non-similar metals from fusing together. It reduces friction and lubricates metal surfaces to 2000°F /1093°C.
Click here for details.
Copper Anti-Seize Compound is compatible with most metals and plastics. It resists thread damage, seizing and galling to 1800°F/982°C. This compound meets performance requirements of MIL-PRF-907F.
Learn more about mold releases, cleaners and rust preventives