Figure 1
How to Eliminate the Brownish Haze on Clear PVC Parts
A brown haze was again appearing in clear PVC parts, putting in motion a series of shut downs, purges and teardowns, severely hampering productivity.
The situation
A molder using a single-barrel blow molding injection machine was using clear PVC to make two parts at once. Molding temperatures were around 550°F. Plus, they were using 30% regrind in the mix.
The probem
Inevitably, they start seeing their clear PVC parts appear with a brownish haze.
So, they followed their usual procedures developed over time to try to clear the barrel and screw and avoid a complete teardown as long as possible.
Step 1 – Stop molding. The molder then used their first of two purging compounds, let's call it PC-A, to stop the haze and get parts back to clear. However, if the parts continued to come out with a haze, or with black specks, they would move to Step 2.
Step 2 – Stop molding again. They next use the second purging compound, let's call it PC-B. This additional purging compound would give them some more molding time, but would also require running from 40-80 pounds of resin through the machine before they could get clear parts.
Step 3 – Stop molding again. Now it was time for a complete tear down to thoroughly clean the barrel and screw. The machine is off-line up to three days.
This routine had been repeated over and over, and cut deeply into productivity. It was time to change and recapture lost time, lost material and lost parts.
The solution
The molder called Slide for assistance. Slide had previsouly sent a technician to the molders facility to provide expertise on the company's injection molding equipment. This issue was even bigger, so we again sent one of our purging technicians to provide hands on technical assistance.
Slide's first step was to review all of their procedures, the material being molded, pressures and temperatures. Then using just 10 lbs of KLENZ purging compound, we started the purge. As the material started to exit the nozzles we turned off the rotation and let the machine soak for about 10 minutes.
After the short wait the machine was restarted and about 4 lbs. of clear virgin PVC was added to push out the purge material. No regrind was included in this step.
The result, Figure 1, shows how much contaminant broke free from the barrel and screw. The molder had never before seen that much brown-tinted material break free during a purge. And yet, we knew we could tweak the procedure to have more dramatic results.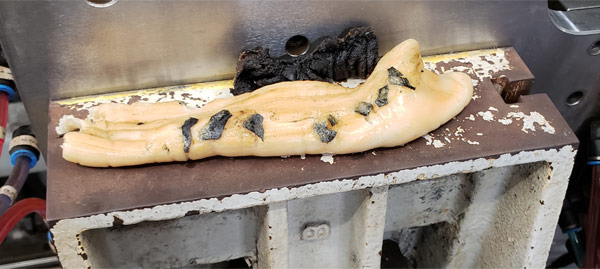 Figure 2.
Next, Slide raised the temperature to 600°F. Raising temperatures is not normally required. However, with a Slide technician on site, their experience is invaluable in finding just the right adjustments to make a purge most effective.
The result – Large black specks, some bigger than a dime, were visible in the purge, Figure 2.
Using these new, proven procedures, the molder states this will eliminate the frequent teardowns caused by marginally effective purges. The obvious benefit will be better quality and more productivity.
Learn more about mold releases, cleaners and rust preventives