Everyone thought it was permanent. A stain that defied all attempts at removal.
One of the unexpected side effects of our isolation is how much more contact we and our distributors are starting to have with molders and mold technicians. I think people are a little starved for conversation and interaction. As a result, a little longer talk has mold technicians bringing up things that irk the heck out of them.
We like irks. We like to remove them.
Once such irksome problem was a stain on a mold. It has been there a long time. And problem that was inherited by the new mold technician. And even his new attempts had failed. Even an all-out attack with a heavy-duty mold cleaner and stiff wire brush was unsuccessful. And since it wasn't visibly or physically impacting part quality, the stain remained and became an "irk."
At a recent meeting in their plant, the irritating mold stain came bubbling to the top of the discussion. After a few questions, we offered a solution we suspected would work and sent a free sample of NexGen mold cleaner and Scotch-Brite® pad.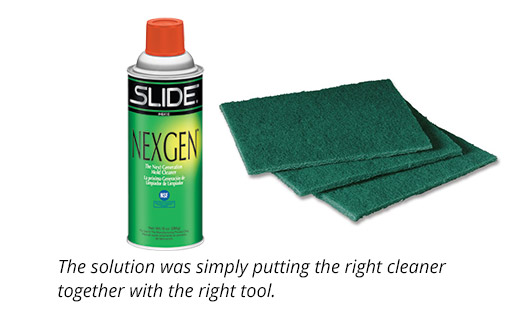 With little effort the "forever" stain was gone. Really, completely gone. No over-the-top, brute-force elbow grease needed.
Got an irk? Ask An Expert. We specialize in irk removal.