Use our mold release wizard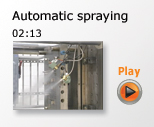 Home/Accessories/Freedom automatic spray unit No. 43200
Freedom automatic spray unit No. 43200
• Just plug and spray
• Easy to use, no hard wiring required
• Save money and save time
• Operate more productively
• Works with aerosol cylinder or pressure pot

DOWNLOAD INSTRUCTION SHEET

The new Freedom automatic spray unit is easy to program and works autonomously from all your equipment. You just plug it in and spray.

A proximity sensor placed near the mold cavity detects when the mold opens and signals the unit to deliver release. Nozzles can be attached with brackets (included) or optional magnetic mounting blocks. You are free to position them anywhere to spray release to any point, such as trouble spots in the cavity, the entire face of the mold, both mold cavities, or even to create a ""cloud"" of release between the cavities.

The extremely compact control unit has protective rubber feet so it can sit on any flat surface, or it mount directly to the machine. And it can either be plugged directly into any 110V, 15 amp circuit.

The Freedom unit comes complete with: easy-to-program control unit, 10-ft spray hose and two nozzles, 6-ft cord and proximity sensor, 5-ft tank hose, and 10-ft power cord. Aerosol spray cylinder or pressure pot additional.

Experience the true Freedom of hands-free automatic spraying with the new Freedom unit from Slide.
Product Number(s)
43200 (spray unit)
43200JP (pressure pot)
43200M (magnets)
Shipping information
No special shipping charges required for ground aerosol shipments. Air shipments may require extra charges and paperwork as determined by carrier. UPS may impose a hazmat fee per cylinder or bulk container for ground shipments. Air shipments of cylinders are not allowed by UPS.
Prices shown are for U.S. customers only. International customers, contact your local sales representative or Slide Products for pricing. Slide may share information with an authorized Slide distributor who, in the future, may offer local support.
| Product No. | Description | Unit Price | | | | Quantity |
| --- | --- | --- | --- | --- | --- | --- |
| 43200 | Freedom Automatic Spray Unit | $1,980.00 | | | | |
| 43200JP | Pressure Pot for Freedom Automatic Spray Unit | $172.50 | | | | |
| 43200M | Set of two (2) magnets for Freedom Unit Spray Head | $124.20 | | | | |
Slide Products, Inc. • PO Box 156 • 430 Wheeling Road • Wheeling, IL 60090
© 2019 Slide Products, Inc. All rights reserved.