Injection Mold Release & Cleaner Accessories
Home / Injection Mold Release & Cleaner Accessories / Handheld Sprayer with Hose (No. 43100M)
Handheld Sprayer with Hose (No. 43100M)
Recommended for all of Slide's cylinder products
Includes assortment of spray tips
Learn more about injection mold and cleaner accessories
Shipping information
No special shipping charges required for ground aerosol shipments. Air shipments may require extra charges and paperwork as determined by carrier. UPS may impose a hazmat fee per cylinder or bulk container for ground shipments. Air shipments of cylinders are not allowed by UPS.
Prices shown are for U.S. customers only. International customers, contact your local sales representative or Slide Products for pricing. Slide may share information with an authorized Slide distributor who, in the future, may offer local support.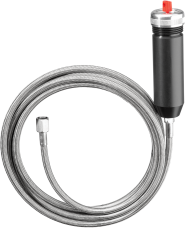 Order A Trial Sample Kit:
Our most popular products combined into kits so you can try before you buy. Or build your own sample kit by ordering up to 4 products of your choosing.
*Trial samples available only to qualified industrial users. One kit per order. Kit can not be ordered in combination with other samples.