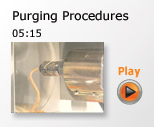 Home/Purging Compound/KLENZ purging compound No. 468
KLENZ purging compound No. 468
• Excellent for use through hot runner systems
• Safe to purge through the mold
• Helps eliminate color streaking and black specs
• Chemically reactive compound
• Polyolefin resin carrier
• GRAS rated active ingredients safe for food packaging applications

DOWNLOAD INSTRUCTION SHEET

KLENZ is a revolutionary purging compound requiring no mixing or preparation time. With operating temperatures of 330º - 610ºF, KLENZ thoroughly cleanses hot runners and the barrel, helping to eliminate color streaking and black specs. Formulated with a polyolefin resin carrier, KLENZ purging compound is safe to purge right through the mold, saving time, material and money. All ingredients are GRAS rated so it is safe to use for food packaging applications. For use with injection molding, extrusion and blow molding.

NOTICE TO PURCHASER: User shall determine suitability of product for his intended use and assumes all risk and liability in connection herewith.

Cylinders may be refilled. Please contact Slide Products for details on this program.

All cylinders, 1-gallon, 5-gallon and 55-gallon bulk products are made-to-order and are non-refundable. A small quantity can be provided as a free trial sample before ordering.
Product Number(s)
468-50 (50 lb box)
468-1000 (1000 lb gaylord)
Shipping information
No special shipping charges required for ground aerosol shipments. Air shipments may require extra charges and paperwork as determined by carrier. UPS may impose a hazmat fee per cylinder or bulk container for ground shipments. Air shipments of cylinders are not allowed by UPS.
Prices shown are for U.S. customers only. International customers, contact your local sales representative or Slide Products for pricing. Slide may share information with an authorized Slide distributor who, in the future, may offer local support.
| Product No. | Description | Unit Price | | | | Quantity |
| --- | --- | --- | --- | --- | --- | --- |
| 468-50 | KLENZ purging compound 50 pound box | $278.00 | | | | |
| 468-1000 | KLENZ purging compound 1000 pound gaylord | $4,950.00 | | | | |
Slide Products, Inc. • PO Box 156 • 430 Wheeling Road • Wheeling, IL 60090
© 2019 Slide Products, Inc. All rights reserved.