Use our mold release wizard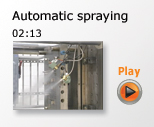 Home/Accessories
Accessories
A complete spraying system to work with your compressed air.
Variable rate tips and valves to be used with Slide Charge-It and Hand Held sprayer.
Refillable, rechargeable tank can be filled with liquid product and charged with compressed air.
Automatic spray unit is easy to program and works autonomously from all your equipment. Proximity sensor signals unit to deliver release to any point.
Handheld sprayer for dispensing equipment designed to be used with Slide cylinder products.
Chemical-resistant plastic bottle and sprayer to be used with Slide bulk products.
Spray can holder helps organize and keep cans in place
Slide Products, Inc. • PO Box 156 • 430 Wheeling Road • Wheeling, IL 60090
Toll Free 1-800-323-6433 • 1-847-541-7220 • Fax 1-800-756-7986 •
Email Slide Products
© 2019 Slide Products, Inc. All rights reserved.