Purging Calculator: Calculate the Savings of Making a Change
Your routine for purging your injection or extrusion machine is likely just that, routine. You do it the same way, everyday. It is an accepted time and resource burner...the cost of processing and quality assurance.
Change the purge and put something special in your garage
How much more could you save doing this faster and more efficiently? For some processors the savings has been tens of thousands of dollars each year. Some have found a savings of hundreds of thousands.

A new purge calculator captures many of the costs associated with purging and helps you understand how much you spend each time you purge. And it gives you a way to compare your current purging process with an alternative method.
Purging is a cost. But does it need to cost so much?
It is not surprising many processors don't know the true cost of purging. So many variables enter into the equation. Machine time, cost of the purge compound and/or cost of resin, parts molded until QA signs off and more can impact the costs.
This new calculator makes it a bit simpler. It works like this. On the left side you enter the average cost per hour to run your machine. If you don't know, there is a link to look for regional averages. Then put in the number of minutes it takes to do a complete purge until you start processing QA-approved parts.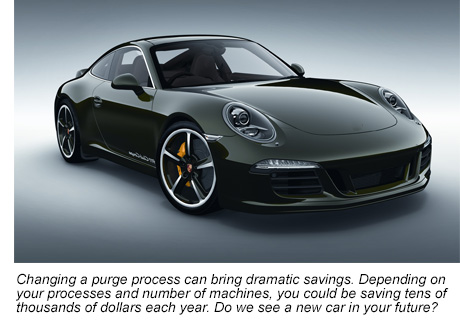 Next, you enter the amount of purging compound you use and the cost per pound of that compound. Not using a purging compound? Simply enter the amount of resin you use and the cost per pound of the resin. Your cost per purge is automatically calculated and displayed.
Want to know how much you can save? On the right side you enter how much of the new Slide purging compound you are using in your test and the cost per pound. Enter the amount of resin you use in the purge process and the cost per pound. The total cost for the new purge process is displayed. In almost every instance you will see a significant difference, a savings on each purge. From there it is easy to multiply by the average number of purges each week, month or year. Now that can be big, with lost of numbers left of the decimal point.
Many people on the floor and handling the day-to-day processing understand this potential to capture lost time and convert that into production and savings. To help them present these numbers to purchasing agents and management the calculator can create a report showing their test results.
On-site technical assistance and support
The calculator also lets the user send the report along with more details and questions to Slide's technical services. Slide can follow up and even provide on-site technical assistance to fine tune the purging process and squeeze even more cost out of the purge. With our Top Tier Serivce we now offer:
Productivity Assessments (in person or virtual)
Best Practices Training, On-Site (lunch & learn)
Free Product Samples
Field Support
Slide has four different purging products ideal for a variety of purging processes. You can also contact Slide Products to additional information or with questions about which purge is right for you.
Request assistance with Slide's Top Tier Service >
View Slide purging solutions >
GET EXPERT ADVICE ON INJECTION MOLD RELEASES, MOLD CLEANERS, RUST PREVENTIVES, EJECTOR PIN GREASE AND PURGING COMPOUNDS