Squeeze Every Second of Production out of Your Mold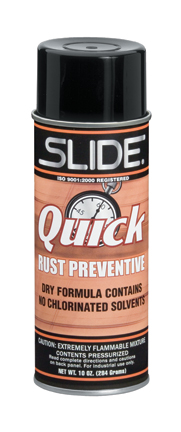 There's a routine you can change to help squeeze more production time out of your mold. Change your rust preventive. Check out the new rust preventive from Slide Products. New Quick Rust Preventive is a dry rust preventive that allows for fast, clean startups when the mold is put into production.
Slide's new Quick Rust Preventive (Quick RP) utilizes a proprietary combination of protecting oils that leave a dry film on the mold surface. This unique dry feature provides protection for up to 2 years of storage while allowing for a fast and clean start-up. The dry oils stay on the mold surface and do not penetrate back into the ejector pins or other hard-to-clean areas, so startup is more efficient, saving you both time and money.
And for those molders looking to avoid the use of any chlorinated solvents, Quick RP has none, so the Quick RP meets both your health and productivity requirements.
Looking for more than 2 years protection, something to handle long-term storage? Check out our top-selling No Rust product. Slide No Rust has been tested to provide protection against oxidation for up to 5 years. And if a mold (or any other metal part) is going to be shipped overseas or stored in an outside environment, No Rust heavy-duty rust preventive provides the highest level of protection.
Free Sample Kits for Mold and Tool Builders
For your convenience, Slide has put together a pre-packed sample kit designed to provide the full range of our best offerings. This kit contains our most powerful Mold Cleaner, a sample of our Super Grease to aid with pin lubrication, some Mold Polish so that you can prepare and repair your mold surfaces, Mold Cleaning Wipes for convenient targeted cleaning, and a sample of your preferred Slide Rust Preventive option. These free sample kits are available at our web site www.slideproducts.com or by calling Slide at 800-323-6444.
Test Slide Before You Buy
Using an effective processing aid like those offered by Slide will help to increase your manufacturing efficiency and decrease your overall costs. Here at Slide, we fully encourage you test out our products. The best way for you to know that the Slide products are as good as we say they are is to get them in your operations. Trial samples of all Slide products are available online at www.slideproducts.com. And unlike many other companies offering these processing aids, Slide Products has an extensive network of local distributors available to aid you with your product selection. If you are interested, please email your request to Slide Products.
GET EXPERT ADVICE ON INJECTION MOLD RELEASES, MOLD CLEANERS, RUST PREVENTIVES, EJECTOR PIN GREASE AND PURGING COMPOUNDS