Cut Costs as You Clean, Lubricate & Protect Your Molds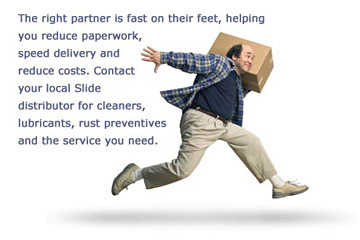 Are you one of the many smart manufacturers striving to reduce their vendor base? Looking to include only those partners truly offering value-added solutions? One place to look is your local Slide Products distributor. Your local Slide Distributor is uniquely positioned to provide just this level of product and services at a single source.
More than mold releases
Only Slide and our distributor partners stand ready to provide you with a full compliment of manufacturing products and quality lines. And with so many quality offerings from a local source, you will no doubt be able to make the procurement process more efficient and less costly.
Costs savings everywhere you look
Take a quick look around your manufacturing facility, and then turn to pages 12 and 13 in the Slide catalog. There are lubricants, cleaners, rust preventives and more that work as well, or better, than some of the items you currently use.
Slide's General Maintenance and Industry offerings include a general purpose Silicone Spray Lube, great for lubricating anything with that annoying squeak or minor rubbing. Slide Penetrant Plus is a heavy-duty penetrating oil that has been rated by an independent testing firm as providing greater lubrication than the popular WD-40 product.
For anybody looking to safely and effectively clean operating electrical equipment or components, the Slide Veri Kleen is an excellent product for this application. Veri Kleen contains absolutely no flammable ingredients, thus making any sort of dangerous ignition virtually impossible. For all mold and die makers, Slide offers a Cutting Oil, and Tapping Fluid, and the Blue Layout Die, all designed to make metal fabrication and cutting much easier and less time consuming.
Test Slide Before You Buy
Using an effective processing aid like those offered by Slide will help to increase your manufacturing efficiency and decrease your overall costs. Here at Slide, we fully encourage you test out our products. The best way for you to know that the Slide products are as good as we say they are is to get them in your operations. Trial Samples of all Slide products are available online at Slide Products web site. And unlike many other companies offering these processing aids, Slide Products has an extensive network of local distributors available to aid you with your product selection. If you are interested, please email your request to Slide Products.
For over five decades Slide Products has been at the forefront of developing and supplying mold release solutions for your operations. You know the quality, and you know how helpful a local distributor can be. It's time to see how Slide can help trim costs in so many other ways. Find out how we can help at 1-800-323-6433, or visit www.slideproducts.com.
GET EXPERT ADVICE ON INJECTION MOLD RELEASES, MOLD CLEANERS, RUST PREVENTIVES, EJECTOR PIN GREASE AND PURGING COMPOUNDS