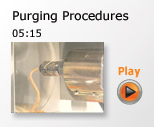 Home/Purging Compound/N.P.T. NuPurge Technology purging compound No. 451-05
N.P.T. NuPurge Technology purging compound No. 451-05
• Complete purging through reactive chemistry
• No need for multiple purging products
• Temperature range of 160° - 600°F
• Ready to use, no mixing
• FDA compliant
• Use with most resins
• Not for use with acetal or Delrin®

The most effective new purging technology developed in decades, NPT eliminates the need for multiple purging products since it effectively operates at temperatures ranging from 160° - 600°F. It removes all traces of barrel residue in any plastics processing application in less time and for less cost.

N.P.T. solves the major problem of removing stubborn residue between color or resin changes. It consists of concentrated purge pellets that react chemically to heat, quickly and effectively cleaning machinery without extra soak time, excess downtime or lost productivity. The resulting purge is so effective that even resin deposits accumulated over long periods are often removed the first time N.P.T is used.

Easy to use, N.P.T. requires no mixing or preparation time, shortening the clean-up cycle. Just pour the recommended amount directly into the throat of the machine. N.P.T. is so  concentrated that less compound --- up to one-half the amount of cracked acrylic - is needed for a complete purge.

N.P.T. is non-hazardous, FDA compliant and free of harsh odors.

NOTICE TO PURCHASER: User shall determine suitability of product for his intended use and assumes all risk and liability in connection herewith.

Cylinders may be refilled. Please contact Slide Products for details on this program.

All cylinders, 1-gallon, 5-gallon and 55-gallon bulk products are made-to-order and are non-refundable. A small quantity can be provided as a free trial sample before ordering.
Product Number(s)
451-05 (5 lb bottle)
451-50 (50lb box)
451-150 (150 lb drum)
451-1300 (1300 lb gaylord)
Shipping information
No special shipping charges required for ground aerosol shipments. Air shipments may require extra charges and paperwork as determined by carrier. UPS may impose a hazmat fee per cylinder or bulk container for ground shipments. Air shipments of cylinders are not allowed by UPS.
Prices shown are for U.S. customers only. International customers, contact your local sales representative or Slide Products for pricing. Slide may share information with an authorized Slide distributor who, in the future, may offer local support.
| Product No. | Description | Unit Price | | | | Quantity |
| --- | --- | --- | --- | --- | --- | --- |
| 451-05 | N.P.T. NuPurge Technology 5 pound bottle | $22.30 | | | | |
| 451-50 | NPT NuPurge Technology 50-lb box | $203.50 | | | | |
| 451-150 | N.P.T. NuPurge Technology 150 lb drum | $588.00 | | | | |
| 451-1300 | N.P.T. NuPurge Technology 1300 lb gaylord | $4,537.00 | | | | |
Slide Products, Inc. • PO Box 156 • 430 Wheeling Road • Wheeling, IL 60090
© 2019 Slide Products, Inc. All rights reserved.