June 17th, 2021
Short-run private-labeling is welcome here
Got an itch to fill a market niche? Have an idea for an aerosol or liquid to solve a problem? Need a more customer-friendly filling service that would love to help you fulfill smaller runs? Slide Products can help you scratch that niche itch with our private labeling/contract filling services.
Customers tell us Slide is a lot easier to work with than the larger filling companies. We have heard horror stories about some experiences in working with the big guys – poor customer service, slow turnaround times, difficult loading conditions, botched formulations – just to name a few.
At Slide, you work closely with our chemist and production staff. You receive guidance on new products, including formulation, testing, package design, GHS-compliant labeling and fill. If you come to us with a ready-to-fill formulation, we can source chemicals and provide prototypes for testing. Whatever your filling needs, your order takes just a couple weeks to fill and ship.
Aerosol Filling Option 1 – Slide helps you develop a formulation
You have a vision. If your end-product fits our aerosol filling capabilities, Slide can advise you on how to get from your idea to a final product. With over six decades of experience, Slide helps you with all the details:
Formulation
Sourcing chemicals
Type of aerosol can, valve and spray nozzle
Package design
Labeling
Prototypes for testing
Filler up!
The goal is to guide you through the decision-making process to help you get the product that performs as you envision.
Aerosol Filling Option 2 – You supply us with ready-to-fill concentrate
What you need is fast fill times and great service. Your concentrate is aerosolized and out the door within a couple of weeks of your order. And if you need any packaging guidance, GHS-compliance advice, tweaks to your formulation, or anything else to give you the right product when you need it, our chemist and production staff are available.
Liquid Filling Option 1 - Slide helps you develop a formulation
Tell us what you want your product to do. From the birth of an idea to a fill of as few as 500 containers, if your specifications fit our capabilities, Slide wants to assist you in developing an effective product. You can supply containers, or Slide can source containers for you. You can provide your label design using our template, or you can tap into our design capabilities. Need advice on GHS-compliant labels? Slide provides that as well.
Liquid Filling Option 2 – Send us your liquid and Slide blends and fills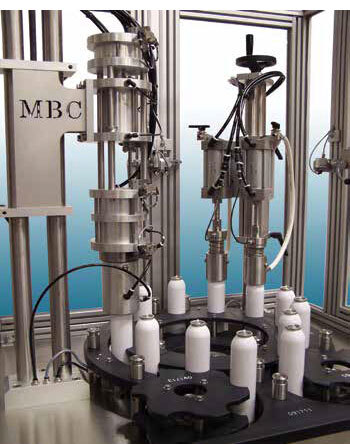 You already have a formulation, package design, containers and labels, and just need us to fill. You'll get fast turnaround and personal service. Or you can access all or some of the services we offer, including packaging design, sourcing of containers, providing pressure-sensitive labels, and GHS-compliance advice.
All work is done at Slide's centrally located facility in the midwestern USA. Your filling is done under the watchful eye of an onsite chemist, ensuring you receive the formulations you need, when you need them.


Compared to the competition, Slide has over 65 years of experience in filling industrial aerosols – in addition to quick response, service and delivery.
Review our specification and contact Slide to help you with your filling project.