November 2nd, 2022
It's so refreshing when simplicity connects with technology and translates to ease of use in a product development. That was the intended result when Slide designed their labor-saving Freedom mold release automatic spraying applicator. This compact unit provides the perfect delivery mechanism for Slide's cylinder formulas or liquid/bulk formulations. The adage, "necessity is the mother of invention" can be aptly applied to our technical team the minute they created this plug-and-go unit.
Slide is no stranger to addressing best practices and meeting needs of their customers in the plastic molding industry. Faced with the challenge to develop a mold release tool that would offer an efficient spray method of coating the mold, plus lessen down time, save labor costs and achieve a safer work environment, our specialists rose to the task by producing the Freedom. It is truly a unique product yielding budget-cutting solutions in a user-friendly, full-feature operating unit.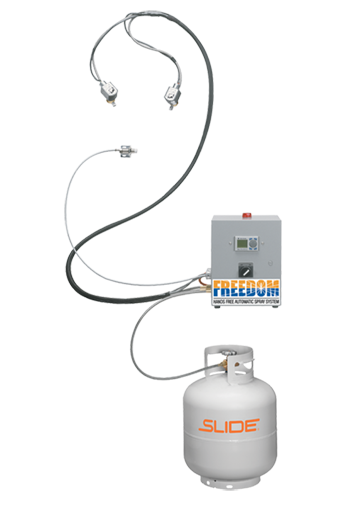 Freedom Features & Benefits
The autonomous hands-free mold release system plugs directly into 110v, 15-amp electric service and it's ready to work. Components include a 10' power cord, two 10' spray hoses, 6' power cord and 5' tank hose.
The Freedom is easy to program via its control panel and doesn't require any hard wiring.
Automatic configuration ensures a consistent, smooth spray while using less mold release formula.
This portable system is self-contained and maintenance free. A proximity sensor placed near a mold cavity detects when it opens and signals the unit to deliver the release agent.
It can be programmed to distribute aerosol at specific cycle intervals with time delay settings.
Two spray nozzles add "arms" and can be mounted directly to the mold, attached by using brackets or optional magnetic blocks.
Simple to install, the compact system has protective rubber feet for placement on any flat surface or directly to the machine.
Designed with versatility in mind, it can also run in a manual spray mode if necessary by utilizing the correct parameters.
Spray head magnets and a pressure pot are also available separately.
Please note that the Freedom unit is engineered to use Slide's products and we cannot offer any warranty or support if it is used with a non-Slide formulation.
Fortunately, Slide's commitment to its customers doesn't end with development of vital products like this one. For more in-depth information, please visit the Freedom product page on our website. A Slide factory representative or local distributor is always available to provide
on-site support and recommendations to assist in meeting our customers' specific needs.