October 5th, 2022
The overall impact between prices versus value touches our lives every day. From choosing a cut of meat, to a major purchase like a house or car, to selecting a home improvement service, even investing in the stock market – we all need to grapple with this connection. Warren Buffet was once quoted as saying "Price is what you pay and value is what you get."
Successful entrepreneurs, investors and purchasing departments in small or large companies have a knack of understanding that earning and retaining new customers isn't magic. While there are many complexities within the fine art of sales techniques, the simple focus should be in showcasing how purchasing your product or service holds an end value to your customer. The shortsightedness of placing too much emphasis on the price side without considering the arbitrary benefits of its value will often turn into a bad business decision.
Selling the inherent worth of your products and services instead of the cost provides an opportunity for clients to realize what would be lost by not doing so.
Educate your target as to how much your product and service will benefit them
Inform them about everything your product and services can do for their bottom line
Prove how your product/service solves problems and aids in achieving their goals
The idiom "you get what you pay for" still often rings true in many circumstances of making a buying decision. However, paying more for something still is no guarantee of its merit. The ultimate value of a purchase sometimes does not manifest itself for weeks, months or years to come. The more you can clearly communicate the many benefits and solutions you can provide, the less your potential buyers will be able to deny the need for what you are offering them.
Plastic Injection Molding Applications
Plastic injection molders are confronted with this quandary in choices that need to be made at every level of their business. These could include the design, location and purchase of the venue, type of machinery in which they choose to invest, what industries they want to serve, staffing hired, types of materials used to mold… all the way down to the companies they will utilize to provide their maintenance services. A failure to recognize how value transcends price for your customers could result in a financial catastrophe.
It is not uncommon for a disconnect to happen between a company's purchasing department and the production floor. Here is a prime example of a case study regarding purchasing a product based on its lower price with disregard for the ultimate value – Purging: The Cost vs. Efficiency Equation.
Slide Products' Solid Focus on Value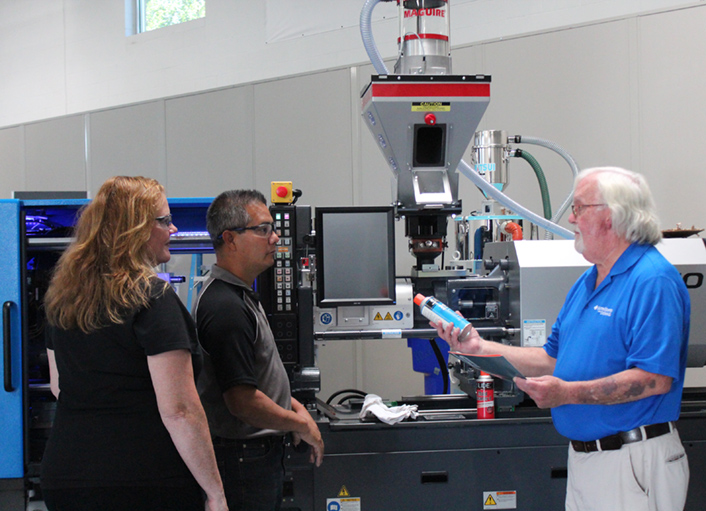 Slide Products has always recognized that the value of our product offerings extends far beyond the superior quality of the formulations we sell. The internal Slide team experts and distributor network provide a wide range of complimentary services to our customer base through our Top Tier Service program. These benefits afford long-term value to our loyal customers, including:
Productivity assessments, on-site or virtual
Best practices training
Free product samples – try before you buy
Field support
Hazardous aerosol return program (SHARP)
Cylinder return and refill program
Best practices articles for our flagship products
Environmental commitment in our product development and services
Strong local distributor network
Purge cost calculator web application
Wealth of literature regarding the injection molding industry and products
Visit the Slide Products website for full details on these value-added items.
Whether you're about to make a personal investment in a product or service, or you're shopping for ways in which to optimize your molding performance and cycle times, we encourage you to think about the price versus value equation before you make your buying decision.