August 3rd, 2022
Can your plastic injection molding company continue to live with the expense and frustration of hours of downtime and dozens of parts scrapped every time a purge is needed? And what about the environmental impact of discarding 400 pounds of plastic every time that purge is done? When we hear from our distributors that they have a customer experiencing these types of purging difficulties, our team is at your service and ready to book a plane ticket! No one should be wasting considerable time and money trying to purge difficult colors or additives from their line. Purge demonstrations are an excellent opportunity to truly understand what is working, where improvements can be made, and delve into the efficiency of the products and processes. When invited on-site, our Slide representatives can observe the entire mold plastic routine from start to finish and speak with everyone involved along the way to implement the best solutions.
Recently Jeff Lewis, Slide's "Master of Mold Release & Purging Expert", received a call from AceTronics, a long-time distributor and good friend, located in Canada. AceTronic's client manufactures chair parts in a variety of colors – a tedious industry standard beginning with producing the lightest colors and moving on to darker shades. To remove the darker colors, the purging procedure can take more than half a day and 65 to 70 discards before the line is placed back into production. When coupled with the recent increases in resin costs, this results in needless expense and is considered a wasteful purge. During a visit to the Canadian plant, Jeff focused on their entire mold manufacturing process. Here is some pertinent information he gathered during his assessment that allowed him to offer AceTronic valuable advice on just how to speed up the purging process and save on cost of materials.
Chairs that are made with Nylon 6 plastics could include a 45% glass fill.
A pelletized master batch method of coloring plastics is known to be the most difficult type of dye to remove from the parts within the machine as it tends to stain them.
Molding and purging are performed at the melting temperature of the plastic being utilized.
Nylon 6 plastic has a melting point of 490°F – higher than most plastics and creates a substantial purging challenge.
After reviewing these important factors, Jeff knew he had the ideal solution for these issues, and suggested Slide's versatile Econo-Purge. This product is a great match since it provides the best economical choice and can be used in a wide variety of operating temperatures. It can also remove old resin and color residue.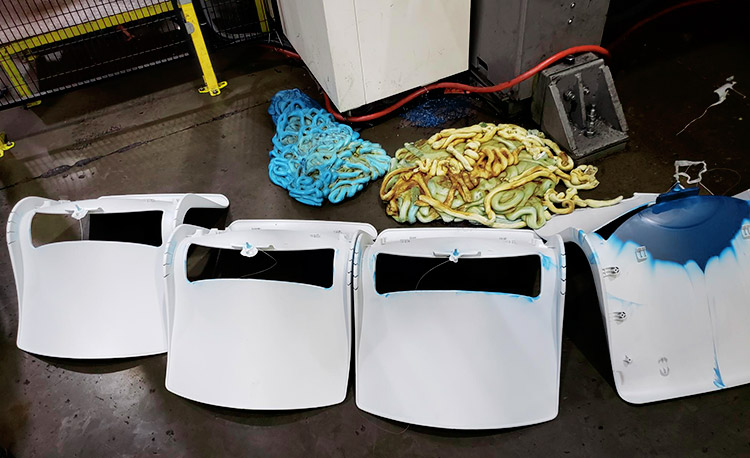 Econo-Purge was the ideal solution. Thirty minutes into the test purge, the 10th part came out as a keeper. With his recommendation, Jeff saved the client 4-1/2 hours of run time and 60 scrap parts (or 350 lbs. of plastic waste). The customer was thrilled with these results, especially since about half of their 60 machines are used to manufacture these chair parts. The cost savings in both time and money across the board will retain them as clients for years to come.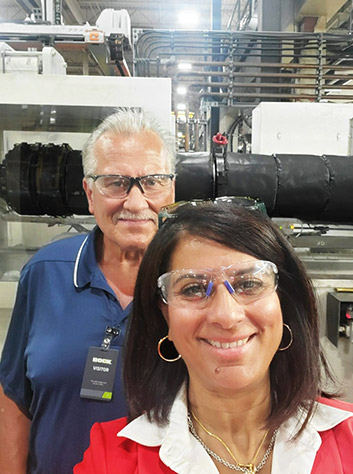 Jeff shares his excitement about his recent excursion: "Many of the distributors I have worked with over the years have become like family. My trip to Canada was rewarding on several levels. I was able to work together with our distributor to help solve the customer's purging problem, in addition to having a wonderful visit with Kim!"
This is a perfect example of Slide's Top Tier Service program. We take pride in both the quality of our products and knowledge of the plastics molding industry and offer this complimentary service as a way to bring continued success to our distributors and customers.