March 16th, 2021
University of Toronto Solar Racing Project Puts Slide Mold Release Agent to Work on the Cars of the Future
The Slide Products team is thrilled to be able to play a small role in a very exciting project, with our donation of Universal Mold Release Agent to an undergraduate team at the University of Toronto that designs and constructs solar-powered vehicles to race in international competitions.
Giving back is a core principle at Slide, so when the University of Toronto's student-led vehicle design team contacted us about donating a gallon of Slide's Universal Mold Release Agent, we were happy to oblige.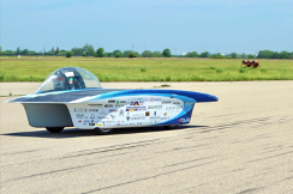 Student-Led Racing Team Pushing the Boundaries of Solar Design
The University of Toronto's student-led Blue Sky Solar Racing team works to design and build lightweight, solar-powered vehicles.
Founded in 1995, the team has successfully built and raced vehicles for the past quarter-century. Today's team has over 50 students from diverse disciplines, working together to push the limits of sustainability in vehicle design.
100% Solar-Powered Vehicles in the Race for Sustainable Energy
The design and development of each vehicle takes two years of rigorous research, simulations and testing. By the end of this process, the students have a finely tuned, high-performance vehicle that weighs a fraction of the average car. These 100% solar-powered vehicles can reach upwards of 60 mph.
Every two years, the team participates in the biennial World Solar Challenge, a 1,877-mile race spanning the Australian continent, as well as the American Solar Challenge. For their upcoming races in 2022 and 2023, the team will be building two solar cars, but required a mold release agent to complete the process – an effort the Slide team was happy to assist.
Slide's Universal Mold Release Agent to Aid in Solar-Powered Car Construction
The team identified Universal Mold Release agent as an ideal solution to their vehicle production needs – and for good reason. This non-silicone, paintable mold release is safe for use on all thermoplastics, and where parts must be painted, hot-stamped or metalized.
Due to its unique composition, Universal Mold Release will not interfere with part bonding, heat sealing, laminating, ultrasonic welding, or post-decorating. This food-grade mold release contains no lecithins and is a dry formulation, making it highly applicable and safe for a variety of projects – even building a solar-powered car. The team will use the mold release agent in the construction of car parts prior to assembly.
The team's mission to design solar-powered vehicles is one that aligns with our own green energy initiatives. We recently installed a solar array system at our headquarter facility to decrease our carbon footprint. Additionally, we provide both a program for returning hazardous aerosol cans, as well as refillable options for most of our products to decrease unnecessary consumption.
Contact us to learn more about our mold release agents and environmental initiatives.