March 31st, 2021
Slide has released a new bio-based formulation of its widely used Mold Polish, reformulated with an extremely low level of volatile organic compounds (VOCs) for improved environmental health, safety and to comply with the CARB standards.
Plate-out, oxidation and stains on fine tooling surfaces can prove difficult to remove without the use of harsh, chemical solvents or highly abrasive scrubbing pads. Not anymore. Slide's new, low-VOC, bio-based Mold Polish, a reformulated version of our highly effective mold polish product, removes discoloration on fine tooling safely, quickly, cost-effectively and with an improved environmental footprint that complies with the California Air Resource Board (CARB) standard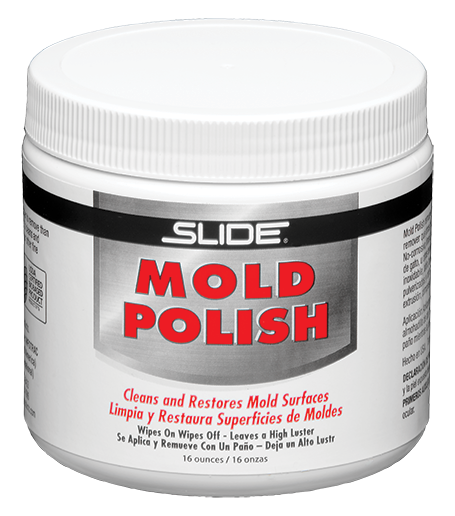 Ideal for all types of metal molds, Slide's Mold Polish restores surface finish, while providing a high luster sheen.
USDA Certified, Low-VOC Polish for Injection Molds & Extrusion Dies
Designed as a more natural alternative to harsh, chemical mold polishes, Slide's newest polish is USDA certified as a bio-based product. With extremely low VOCs, this polish is safer for the environment and for employees interacting directly with the product and compliant with heightened standards for emissions that contribute to the formation of ground-level ozone.
Not only does the polish contain less VOCs, but it's also more cost-effective compared to competitive products, and easier to remove. That's a win-win-win, if you're counting. This low-VOC, high-impact product effortlessly wipes on and off without leaving residue. Simply apply with a soft cotton cloth or buffing wheel, and the polish cleans and shines mold cavities and cores stained during plastics processing. Effective on:
Steel, including stainless
Aluminum
Brass
Bronze
Zinc
Beryllium
Powdered metals
And more
We believe this non-hazardous and non-corrosive polishing product is an important step forward in the industry's efforts to protect the health of both employees and the planet.
Fast, Stain-Free Results
Slide's bio-based polish safely cleans and shines highly polished molds without causing spiral webs, cattails or other fine surface scratches. Made in the U.S.A., the polish comes conveniently packaged in boxes of four 16 oz. tubs.
Ideal for all types of molds, fixtures, and dies, this product quickly restores the surface luster and sheen of a variety of metals and other materials used in injection, blow, extrusion, compression, and rim molding.
See for Yourself: Request a Free Sample
Contact us for a free sample so you can experience how this low-VOC, highly effective Mold Polish performs on your molds.