New Automatic Mold Release Spraying System: Add Arms without Adding Bodies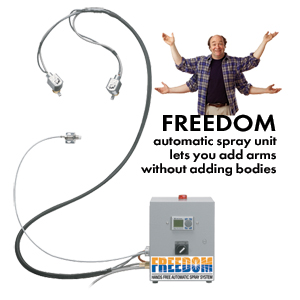 Introducing a simple, labor-reducing, hands-free spraying system that minimizes downtime, reduces manufacturing costs, boosts productivity and controls consumption of processing chemicals.
Extremely simple to program, Slide's Freedom automatic spray system is autonomous, working easily on its own. Just plug and spray.
Why Freedom? Spraying by hand is inconsistent and wasteful. Automating the application of mold releases or other process aids insures a consistent, smooth spray. Coverage is more uniform and you use substantially less mold release than hand-sprayed aerosols.
The entire system is self-contained and virtually maintenance free. A proximity sensor placed near the mold cavity detects when the mold opens and signals the unit to deliver release agent. The system can be programmed to spray at specific cycle intervals and you can also program delays to permit parts to release or robotics to function before the unit sprays the mold cavity. Two nozzles deliver the spray in a cone or fan spray pattern. Nozzles can be mounted directly to the mold or attached using optional magnetic blocks.
A useful tool for molds and more
The spray duration can be set from a small burst to a long spray for very large mold cavities. Need repeated lubrication in other parts of the plant? Do conveyors or other processes requiring the application of lubricants or other products that could easily be automated? Manufacturers have found the Freedom automatic spray unit has been ideal for precise lubrication to specific areas of their production processes. Designed to utilize Slide's giant aerosol tanks, Slide's Freedom system can be also be adapted to accommodate bulk products.
Easy to install
Our compact Freedom system has protective rubber feet so it sits solidly on any flat surface. Or you can mount the unit directly to the machine. Equipped with a 10-foot power cord that plugs directly into any 110V, 15 amp circuit, the system comes standard with an easy-to-program control unit, two 10-foot spray hoses with nozzles attached, 2 additional spray nozzles with an alternate spray pattern, proximity sensor with 6-foot cord, and a 5-foot tank hose.
Learn more about this labor saving system. Contact a Slide Technical Advisor at 1-800-323-6433, or visit www.slideproducts.com.
GET EXPERT ADVICE ON INJECTION MOLD RELEASES, MOLD CLEANERS, RUST PREVENTIVES, EJECTOR PIN GREASE AND PURGING COMPOUNDS