April 11th, 2023
Late last month, Slide Products had the privilege of exhibiting at the 2023 Plastics Technology Expo in Rosemont, IL. During the expo we were able to share mutual past experiences and gain some understanding into current industry advances along with other trade specialists that touch all areas of the North American plastics market.
While we kept an interesting and full schedule at PTXPO, a favorite experience was being interviewed by MoldMaking Technology magazine. A lively discussion ensued, and showcased just how much Slide strives to improve molding efficiency for its customers. Below we thought it would be fun to share some highlights on the topics we covered. This is part one of the conversation; part two is featured in our April 25 post: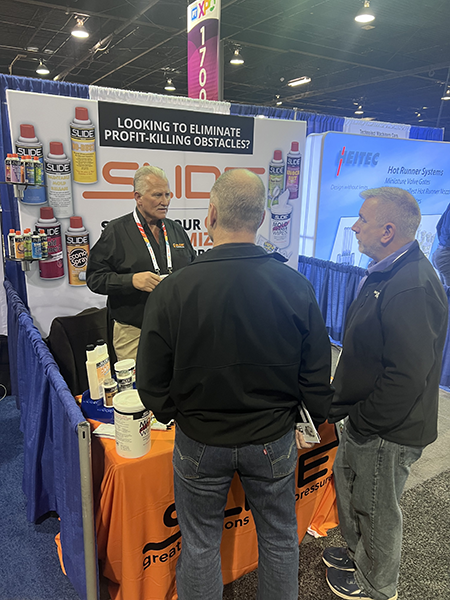 Your team has more than 100 years of field experience and insight into the needs of mold builders and molders when it comes to mold care, and you regularly share best practice documents and product recommendations. What has been an industry favorite of all the content you provide?
Yes, at Slide, we have over 100 years of combined field experience making on-site visits to plastic processors and mold makers – we've seen a lot of things and have delivered many recommendations. Team members constantly have conversations on common questions and possible solutions and are intuitive about what our clients are going through even under the most challenging circumstances.
In order to concisely convey this expertise and knowledge, we have created a series of 1-page Best Practices documents that we share with those involved in the mold building and plastics industries While we have had great success with these offerings, our most popular has been the article on "Proper Ejector Pin Grease Selection and Uses". In this segment, we explain that using an inferior grease to lubricate these critical mold components can lead to a variety of frustrations for processors and mold makers alike.
Using the "wrong" grease often contributes to a melted substance bleeding out and contamination of the mold and molded parts. This leaves the molder not only with dirty parts that either have to be cleaned or scrapped, but they also don't have any grease lubricating their moving mold components. This can result in ejector pins and plates getting too hot and possibly seizing up inside the mold base, thus causing further aggravation and downtime.
For these reasons, it is critical to use an appropriate grease that is colorless, operates at a high processing temperature without breaking down and carries NSF certification for use in food-related molding environments. This is one of the most and important and appreciated Best Practices guides that Slide has published.
You have a slew of mold cleaners, rust preventives, mold releases and MRO products we could review, but what would you consider Slide's No. 1 contribution to the mold making industry, and why?
We are proud of Slide's "Mold Shield Dry Rust Preventive" and believe that it is our No. 1 contribution to the mold making industry due to its unique formulation and time-saving capabilities. The Slide Mold Shield affords a proprietary blend of ingredients that really gives users three critical functions:
The product offers a moisture-displacing element to help wick away any remnant moisture that might be present on the mold or may develop as a result of the internal water lines cooling down.
Mold Shield contains a small amount of an acid neutralizing or base material. Adding this ingredient to the formulation helps to eliminate and neutralize fingerprint acids or other acidic contaminants that can cause damage to the mold surface during storage.
We've designed Mold Shield to have a unique dry effect that allows the protective oils to set up on the mold surface. This safeguards the mold, allows for a quicker less labor-intensive mold cleaning process and puts the mold back into production sooner.
We frequently hear how much time our Mold Shield agent saves the mold prep team every time they are getting their molds ready to hit the production room floor.
See part two of this interview.

Please note that this is part one of a preliminary write-up in preparation for the interview, and that we plan to post the final video when it becomes available.