April 25th, 2023
This is the second part of the interview write-up conducted by MoldMaking Technology magazine with Slide's Michael Muth, while in attendance at the 2023 Plastics Technology Expo in late March. The discussion showcased Slide's dedication to improving molding efficiency for its customers in the North American plastics market. See part 1 of the interview here.
What is your top recommendation to help our audience improve their performance and profitability today? And explain why.
Our main goal at Slide is to make molding as efficient and cost-effective as possible. We always keep this principle in mind, and it influences every decision we make.
We try to challenge our customers to ask themselves the simple question of "why are we doing it this way" and 90% of the time, the answer we get back is "this is just how we've always done it", or "this is just how I was trained". We cover this with them because although their current mentality may be "safe", it often leads to a stagnant work process. It is of vital importance to look for areas and ways to improve the efficiency and profitability of a company.
Around 15 years ago, Slide was contacted by a plastics molder in Ohio with three locations. They asked if we would come in to perform an audit on their operations and make suggestions on how best to reduce their use of a Slide mold release product. While it was a strange request to accept since it would ultimately mean fewer sales, Slide's philosophy is to always provide service and support to our customers.
We spent two days driving around the state watching their operations. At the final location, we observed an injection molding operator spraying our mold release product onto the mold every three cycles. When we inquired about what was so magical about spraying after the third cycle, she replied that this was just how she was trained, and when doing so, her parts never stuck in the mold.
We grabbed the manager and asked if we could run an experiment in an effort to better determine exactly how often they really needed to apply the mold release. Our reps cleaned the mold, applied the release, and then ran 19 parts before any sign of part sticking was noticed. We repeated the trial process and again ran an additional nearly 19 parts before sticking re-occurred. The floor manager immediately updated their recommended procedures to not apply any release until after the 15th part was molded. Two hours later, the 15-part course of action was rolled out across all 24 of their injection presses.
Though this assessment ultimately resulted in a customer using less of Slide's mold release spray, we felt good that we had helped push the customer to break free from the mindset of following the same inefficient and wasteful method over and over again. In this and so many other examples just asking the question of "Why are you doing something this way?" has resulted in improved efficiency and profitability for our customers.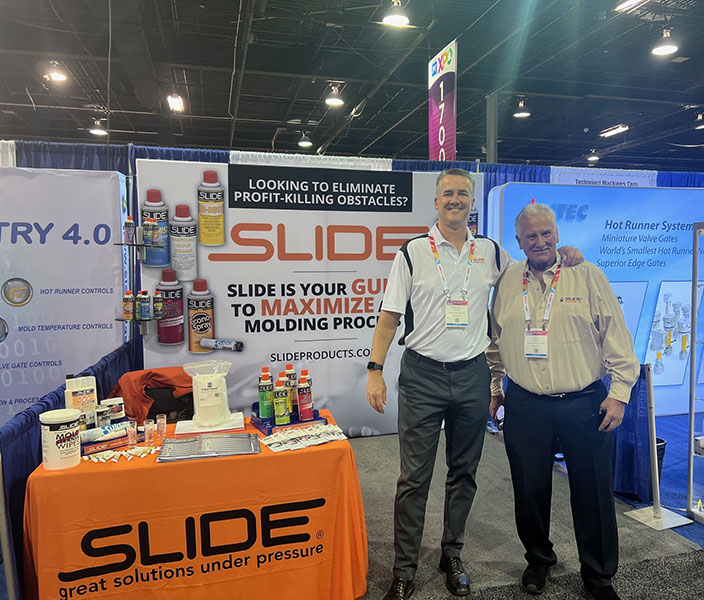 What has you excited about the future of mold making?
We see a very positive outlook for 2023 and beyond. For Slide, if our mold making customers are busy and growing, we can bank on plastic processors being engaged with new work in 6-9 months. We've been studying the forecasts looking at expected mold and tooling needs out through 2026, and there are some very encouraging numbers and trends. The growth of EVs and those model changes will be a huge driving force in the demand for new molds over the next handful of years. Slide is very excited by this prospect and what it means for both the mold making and plastic processing segments. We hope to support our customers so they will be positioned to ride this growth wave. Check out this blog to learn more about 2023 plastic industry trends.

MMT is celebrating 25 years, what does MMT mean to you?
The average person doesn't understand how much is involved with making the plastic medical or automotive parts that our society is reliant on. Because of this, it's such a positive element to have a media outlet focused solely on such a vital manufacturing industry. Without a vibrant mold making labor force, and a media channel like MMT reinforcing it, we would expect many aspects of daily life that we often take for granted would be impacted for the worse. We need industry groups like MMT and AMBA to continue promoting and backing the mold making sector!
We want to personally thank MoldMaking Technology for taking the time to discuss these topics near and dear to Slide Products. We love sharing our expertise and learned so much throughout the conversation!
Please note that this is part two of a preliminary write-up in preparation for the interview, and that we plan to post the final video when it becomes available.